Todd McFarlane is attending Phoenix Comic Fest for a one day only appearance in his hometown. Last minute schedule changes allowed for Todd to stop in and say hi to local fans and share some toy, comic and movie news with fans.
Tickets are still available for the event – click here to buy.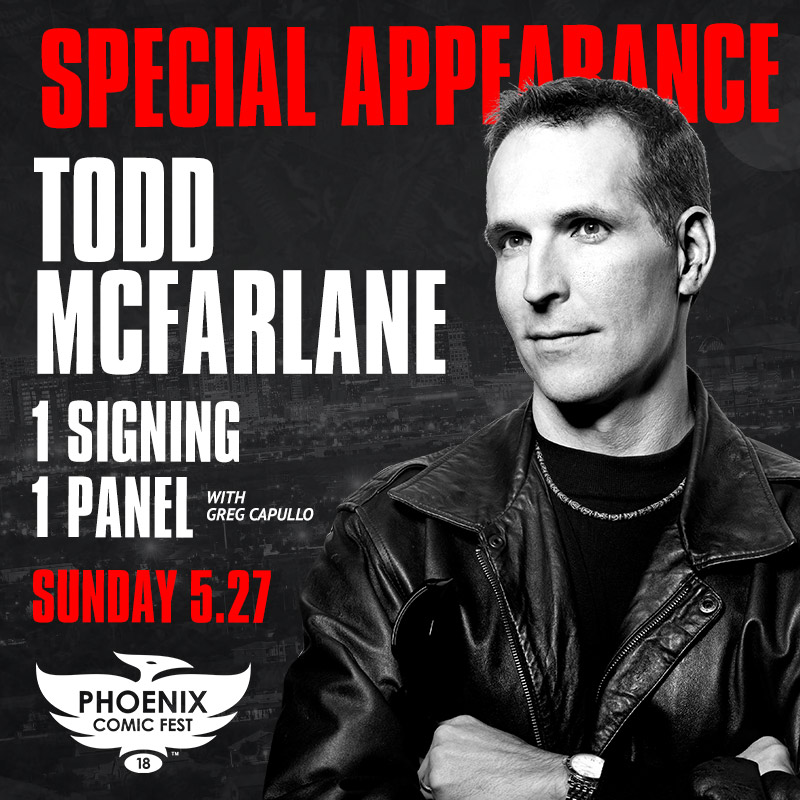 Here's where you'll be able to find Todd and McFarlane Toys at the show:
McFarlane Toys Schedule – Thursday, May 24th
3:00 – 4:00 PM: Spawn: Behind the Cape…What it's REALLY Like Working for Todd "Toddfather" McFarlane
Location: North 231AB
Hear what it's like to work directly with the Toddfather himself and learn what Todd looks for in artists and writers. Get some insight into the comic book publishing world and learn a bit about the comic book publishing process. With cool giveaways!
4:30 – 5:30 PM: From Concept to Shelf: Behind the Build. What goes into Making McFarlane Construction Sets
Location: North 231AB
McFarlane Toys has brought a revolutionary evolution in brick building toys that allows collectors and fans to jump into their favorite pop culture shows. With highly detailed and realistic construction, each set brings iconic and memorable scenes right into the palm of the builder's hands. But what does it take to design and form these highly detailed sets? McFarlane Toys Design Team gives a behind the scenes look at the long process. Starting with the concept and design, to making each set come to life through sculpting and finally, the finished product that you see on shelves.
Todd McFarlane Schedule- Sunday, May 27th
1:30 – 2:30 PM: Todd McFarlane Panel with Greg Capullo
Location: Room 132ABC
Todd McFarlane talks toys, comics, movies and more with fellow artist Greg Capullo.
3:30 – 4:30 PM: Todd McFarlane Autograph Session
Location: Hall of Heroes Table H100
Bring your favorite comics and toys to have it signed FREE by Todd. Limit 1 item per person and must be over 13 years. No sketches. No CGC, or other witnessing/grading. Autograph session is limited to 100 and wristbands will be issued at H100 starting at 2:30PM.
For live updates from the show floor, follow Todd on Facebook, Instagram and Twitter. 
To see a list of upcoming events for Todd McFarlane and McFarlane Toys, click here.